Green Living Guy and his Eco Friendly Going Green Links!
Some Companies Consulted by ETS ENERGY STORE, LLC
Associated Press
Bloomberg New Energy Finance
Briarcliff Manor Public Library:
Air Quality Trends Show Clean Air Progress
Nationally, concentrations of air pollutants have dropped significantly since 1990:
Carbon Monoxide (CO) 8-Hour,

 

 

74%
Lead (Pb) 3-Month Average,

 

 

82%

 

(from 2010)
Nitrogen Dioxide (NO2) Annual,

 

 

57%
Nitrogen Dioxide (NO2) 1-Hour,

 

 

50%
Ozone (O3) 8-Hour,

 

 

21%
Particulate Matter 10 microns (PM10) 24-Hour,

 

 

26%
Particulate Matter 2.5 microns (PM2.5) Annual,

 

 

39%

 

(from 2000)
Particulate Matter 2.5 microns (PM2.5) 24-Hour,

 

 

34%

 

(from 2000)
Sulfur Dioxide (SO2) 1-Hour,

 

 

89%
Numerous air toxics have declined with percentages varying by pollutant
During this same period, the U.S. economy continued to grow, Americans drove more miles and population and energy use increased.
 Air quality concentrations can vary year to year, influenced not only by pollution emissions but also by natural events, such as dust storms and wildfires, and variations in weather.
Tip Click pollutant names in the chart legend to hide or include trend lines, and hover over any line to display percentages above or below the most recent standard. Click the Emission Totals tab to view emission trends
Health Effects Breathing elevated levels of CO reduces the amount of oxygen reaching the body's organs and tissues. For those with heart disease, this can result in chest pain and other symptoms leading to hospital admissions and emergency department visits.
Environmental Effects Emissions of CO contribute to the formation of CO2 and ozone, greenhouse gases that warm the atmosphere.
EWG Cosmetics Landing Page: https://www.ewg.org/key-issues/consumer-products/cosmetics
Healthy Living App: For iOS and Android https://www.ewg.org
100+ Ways to Donate Your Old and Used Electronics to Charity
Here's some Solar FAQ's
Then here Is Solar Really Worth It?
Let's not forget Solar Loans vs. Solar Lease
Eastern Connecticut State University
First Site Guide. Said Green Living Guy Productions Total followers across all social media channels is over 4.8 Million!
Green People Buy Green, Sell Green, Be Green
Amazon Page in the United Kingdom (UK)
Natural Organic Organicare

 and Beauty

Renewable Energy Database
Source Guides
http://www.mddelcc.gouv.qc.ca/changementsclimatiques/vze/index-en.htm
Learn more about the Transportation Electrification Action Plan 2015–2020:
http://transportselectriques.gouv.qc.ca/wp-content/uploads/CIAO-050-LG2-MTQ-Rapport2016ENv2.1_.pdf
2013–2020 Climate Change Action Plan measures:
http://www.mddelcc.gouv.qc.ca/changementsclimatiques/plan-action-fonds-vert-en.asp
Pan-Canadian Framework on Clean Growth and Climate Change
Environment and Natural Resources in Canada's Facebook page
•Alternative Fueling Station Locator map
•Go green with electric vehicles
•Electric Vehicle Infrastructure Demonstrations
Follow us on Twitter: @NRCan (http://twitter.com/nrcan)

Check out Tesla Pads if you buy or own a Tesla and get a house from them.
We'll send a certified electrician to your new home to install your charger for at home charging ease.
IRS tax credit for $7,500 for electric vehicles personal taxes
IRS tax credit for electrified vehicles for business taxes
Congress has renewed the Alternative Fuel Infrastructure Tax Credit, which provides a tax credit of 30% of the purchase and installation cost of electric vehicle charging stations. 
Tesla $1,000 Discount Referral Link. We will accept any links for them. This was just our first. 
Use my referral link to receive 1,000 free Supercharger miles with the purchase and delivery of a new Tesla car, or earn a $100 award after system activation by purchasing or subscribing to solar panels:
AutoblogGreen
Blog that obsessively covers all environmentally-friendly (or egregiously unfriendly) car news
Electric Drive Transportation Association (EDTA)
Industry association dedicated to advancing electric drive as a core technology on the road to sustainable mobility
Electric Vehicle Auto Association (EVAA)
A non-profit (501 [c]3) organization of electric vehicle owners, hobbyists, educators and enthusiasts dedicated to promoting the use of electric vehicles (EVs) as an environmental and energy alternative
Electrifying Times
The international magazine of electric vehicles, hybrids, fuel cells, batteries, alternative fuels, electric car racing and exhibitions
EV World
Promotes sustainable transportation with a focus on the people and policy, as well as technology.
History of Electric Scooters
Source: Electric Vehicle Auto Association 
The original Electric Auto Association has numerous local chapters. There are offshoots from the original, and new local entities having no connection with the original. There are also associations and organizations designed to serve corporate and commercial interests rather than individuals. Each one of these has its own meetings, events, and newsletter.
Electric Auto Association
www.electricauto.org
Founded in 1967, this is the oldest, largest organization, and has consistently been the best source of EV information for the individual. The newsletter subscription is well worth the price of the membership dues. Recent newsletters have averaged 16 to 20 pages and provide information on current EV news and happenings. I can't emphasize enough the invaluable knowledge on tap in the members of this organization. The experience level of the various drivers who have built their own conversions can shorten one's learning curve substantially. Information on and photos of the many samples of conversions done over the years by this organization can be found at http://www.evalbum.com.
Here are some EAA local chapters—maybe there's one near you.
Electric Vehicle Council of Ottawa
Web site: evco.ca
Contact: Alan Poulsen <info@evco.ca>
(613) 271-0940
Mailing: P.O. Box 4044, Ottawa, ON K1S5B1
Meetings: 7:30 pm–10:00 pm, last Monday of the month
Vancouver Electric Vehicle Association
Web site: www.veva.bc.ca
Electric Vehicle Society of Canada—Toronto
Web site: www.evasociety.ca
The Electric Auto Association's logo says it all. Registered trademark of the Electric Auto Association.
Alaska EAA
Web site: www.alaskaEVA.org
Phoenix EAA
Web site: www.phoenixeaa.com
California
Central Coast EAA
Web site: http://www.eaacc.org
Contact: Will Beckett <will@becketts.ws>
(831) 688-8669
Mailing: 323 Los Altos Drive, Aptos, CA 95003
Meetings: Call or see web site for meeting information
Chico EAA
Web site: geocities.com/chicoeaa
Contact: Chuck Alldrin <chicoeaa@sunset.net>
(530) 899-1835
Mailing: 39 Lakewood Way, Chico, CA 95926
Meetings: 11:00 am–1:00 pm, 2nd Saturday of the month
East (SF) Bay EAA
Web site: http://www.ebeaa.org
Mailing: 6161 El Cajon Boulevard, San Diego, CA 92115
Meetings: 4th Tuesday of each month during the academic year, except for December
Konocti EAA
Web site: www.konoctieaa.org
Contact: Dr. Randy Sun <rsun@mchsi.com>
(707) 263-3030
Mailing: 800 S. Main Street, Lakeport, CA 95453
Meetings: 11:00 am, last Friday of the month
North (SF) Bay EAA
Web site: www.nbeaa.org
EVA of San Diego
Web site: https://www.sandiegoev.org/
San Francisco Electric Vehicle Association
Web site: www.sfeva.org
Silicon Valley EAA
Web site: http://www.eaasv.org
Florida
Florida EAA
Web site: www.floridaeaa.orgGeorgia
EV Club of the South
Web site: www.evclubsouth.org
Illinois
Fox Valley EAA
Web site: www.fveaa.org
Mid America EAA
Web site: maeaa.org
Contact: Mike Chancey <eaa@maeaa.org>
(816) 822-8079
Mailing: 1700 East 80th Street, Kansas City, MO 64131-2361
Meetings: 1:30 pm, 2nd Saturday of the month
Massachusetts
New England EAA
Web site: http://www.neeaa.org/
Contact: Bob Rice <bobrice@snet.net>
(203) 530-4942
Mailing: 29 Lovers Lane, Killingworth, CT 06419
Meetings: 2:00 pm–5:00 pm, 2nd Saturday of the month
Pioneer Valley EAA
Web site: http://www.pveaa.org
Contact: Karen Jones <PVEAA@comcast.com>
Mailing: P.O. Box 153, Amherst, MA 01004-0153
Meetings: 2:00 pm, 3rd Saturday of the month (Jan–June; Sept–Nov)
Minnesota
Minnesota EAA
Web site: mn.eaaev.org
Nevada
Alternative Transportation Club, EAA
Web site: www.electricnevada.org
Las Vegas Electric Vehicle Association
Web site: www.lveva.org
Contact: William Kuehl <bill2k2000@yahoo.com>
(702) 636-0304
Mailing: 2816 El Campo Grande Avenue, North Las Vegas, NV 89031-1176
Meetings: 10:00 am–12:00 noon, 3rd Saturday of the month
North Carolina
Coastal Carolinas Wilmington
Contact: Page Paterson <pagepaterson@mac.com>
(910) 686-9129
Mailing: 1317 Middle Sound, Wilmington, NC 28411
Meetings: Please contact for time and date
Piedmont Carolina Electric Vehicle Association
Web site: www.opecthis.info
Contact: Todd W. Garner <tgarnercgarner@yahoo.com>
(704) 849-9648
Mailing: 1021 Timber Wood Court, Matthews, NC 28105
Meetings: Please contact for time and date
Electric Cars of Roanoke Valley
Contact: Harold Miller <EV@schoollink.net>
(252) 534-1258
Mailing: 567 Miller Trail, Jackson, NC 27845
Meetings: Please contact for time and date
Triad Electric Vehicle Association
Web site: www.localaction.biz/TEVA
Mailing: 2053 Willow Spring Lane, Burlington, NC 27215
Meetings: 9:00 am, 1st Saturday of the month
Triangle EAA
Web site: http://www.rtpnet.org/teaa
Contact: Peter Eckhoff <teaa@rtpnet.org>
(919) 477-9697
Mailing: 9 Sedley Place, Durham, NC 27705-2191
Meetings: 3rd Saturday of the month
Oregon
Oregon Electric Vehicle Association
Web site: www.oeva.org
Contact: Rick Barnes <barnes.rick@verizon.net>
Mailing: 19100 SW Vista Street, Aloha, OR 97006
Meetings: 7:30 pm, 2nd Thursday of the month
Pennsylvania
Eastern Electric Vehicle Club
Web site: www.eevc.info
Contact: Peter G. Cleaveland <easternev@aol.com>
(610) 828-7630
Mailing: P.O. Box 134, Valley Forge, PA 19482-0134
Meetings: 7:00 pm, 2nd Wednesday of the month
Texas
Alamo City EAA
Web site: www.aceaa.org
Contact: Alfonzo Ranjel <acranjel@sbcglobal.net>
(210) 389-2339
Mailing: 9211 Autumn Bran, San Antonio, TX 78254
Meetings: 3:00 pm CST, 3rd Sunday of the month
AustinEV: the Austin Area EAA
Web site: www.austinev.org
Contact: Aaron Choate <austinev-info@austinev.org>
(512) 453-2890
Mailing: P.O. Box 49153, Austin, TX 78765
Meetings: Please see web site
Houston EAA
Web site: www.heaa.org
Mailing: 8541 Hatton Street, Houston, TX 77025-3807
Meetings: 6:30 pm, 3rd Thursday of the month
North Texas EAA
Web: http://www.nteaa.org/
(214) 703-5975
Mailing: 1128 Rock Creek Drive, Garland, TX 75040
Meetings: 2nd Saturday of the month
Utah
Utah EV Coalition
Web site: www.saltflats.com.
Contact: Kent Singleton <kent@saltflats.com>
(801) 644-0903
Mailing: 325 E. 2550 N #83, North Ogden, UT 84414
Meetings: 7:00 pm, 1st Wednesday of the month
You'll meet BYU Electric Team, WSU-EV Design Team, other land speed racing celebrities. Always a great turnout.
Washington
Seattle Electric Vehicle Association
Web site: www.seattleeva.org
Mailing: 6021 32nd Avenue NE, Seattle, WA 98115-7230
Meetings: 7:00 pm, 2nd Tuesday of the month
Washington D.C.
EVA of Washington DC
Web site: www.evadc.org
Mailing: 9140 Centerway Road, Gaitherburg, MD 20879-1882
Meetings: 7:00 pm, 2nd or 3rd Tuesday of the month
Electric Vehicle Association of Greater Washington DC has an excellent overview,
"Build an EV" at www.evadc.org/build_an_ev.html.
Wisconsin
Southern Wisconsin EV Proliferation
Web site: http://www.emissionsfreecars.com
Contact: Mike Turner <mike.turner@emissionsfreecars.co>
(920) 261-7057
Mailing: 808 Fieldcrest Court, Watertown, WI 53511
Meetings: Please contact for date and location
EAA Special Interest Chapters
California Cars Initiative
Contact: Felix Kramer <info@calcars.org>
(650) 520-5555
CalCars — California Car Initiative to develop clean, efficient, and practical vehicles.
PlugInAmerica (http://www.pluginamerica.org/) — a coalition EV drivers, and clean air and energy independence advocates (PlugInAmerica is an affiliated organization ). This coalition advocates the use of plug-in cars, trucks and SUVs powered by cleaner, cheaper, domestic electricity to reduce our nation's dependence on petroleum and improve the global environment.
Mailing: P.O. Box 1174, El Segundo, CA 90245
Meetings: Please contact for details
Electric Drive Transportation Association
1101 Vermont Avenue, NW, Suite 401
Washington, DC 20005
(202) 408-0774
www.electricdrive.org
"EDTA is the preeminent industry association dedicated to advancing electric drive as a core technology on the road to sustainable mobility. As an advocate for the adoption of electric drive technologies, EDTA serves as the unified voice for the industry and is the primary source of information and education related to electric drive. Our membership includes a diverse representation of vehicle and equipment manufacturers, energy providers, component suppliers and end users."(www.electricdrive.org/index.php?tg=articles&topics=1)
National Electric Drag Racing Association
3200 Dutton Avenue #220
Santa Rosa, CA 95407
http://www.nedra.com
The National Electric Drag Racing Association (NEDRA) exists to increase public
awareness of electric vehicle performance and to encourage through competition,
advances in electric vehicle technology. NEDRA achieves this by organizing and
sanctioning safe, silent, and exciting electric vehicle drag racing events.
Northeast Sustainable Energy Association (NESEA)
23 Ames Street
Greenfield, MA 01301
(413) 774-6051
Supports electric vehicle initiatives in the Northeast.
Solar Energy Expo and Rally (SEER)
239 S. Main Street
Willits, CA 95490
(707) 459-1256
Host for annual "Tour de Mendo," when Willits temporarily becomes the solar
capital of the world.
Solar and Electric Racing Association
11811 N. Tatum Boulevard, Suite 301
Phoenix, AZ 85028
(602) 953-6672
Organizes annual Solar and Electric 500 in Phoenix and promotes electric vehicles.
Plug-In Vehicle Advocacy
EAA Plug-in Hybrid Special Interest Group(http://www.eaa-phev.org/) — develop and document the modifications needed to convert hybrid electric vehicles into a "plug in" hybrid. The goal is to make conversion plans available as well as a list of parts needed.
PlugIn Partners
EV Research
Dr. Andrew Frank http://www.eaa-phev.org/wiki/Dr._Andrew_Fran has done research on electric vehicle technology since 1971 and is widely recognized as the father of the modern plug-in hybrid electric vehicle (PHEV).
Electric Vehicle Development
AC Propulsion (http://www.acpropulsion.com/) — developer of the tZero super-car, numerous conversions, and technologies.
Charging station location links, recommend ReCarGo or PlugShare first
http://carstations.com/
http://www.chargepoint.net/find-stations.php
http://www.plugshare.com/
http://www.blinknetwork.com/locator.html
EV Connect our newest partner in infrastructure
Station Locations

http://www.afdc.energy.gov/afdc/locator/stations/
Government Links
National Renewable Energy Laboratory
NREL Advanced Vehicles and Fuels Research
NREL Plug-In Hybrid Electric Vehicles
DOE Energy Efficiency and Renewable Energy
EERE: FreedomCAR & Vehicle Technologies Program
ANL: The Greenhouse Gases, Regulated Emissions, and Energy Use in Transportation (GREET) Model
National Oceanic and Atmospheric Administration (NOAA)
NOAA Annual Greenhouse Gas Index (AGGI)
Laws on EVs, PHEVs and NEVs
DOE Alternative Fuels Data Center
UCS hybrid center with state and federal law summaries and links
California Air Resources Board: Laws and Regulations
Green Celebrities
To begin!! I've met a lot of Green Celebrities Throughout my years as The Green Living Guy. Again and I will say again, I have met a lot of Green Celebrities. Today, I know and am humbled, Some would now consider me a Green Celebrity.  So cool!
Ted Danson being interviewed by Seth Leitman, The Green Living Guy on his blog talk radio show.
I know and you don't need to ask! So, what the heck is a Green celebrity?! As defined by Ranker:
Several popular actors, actresses, and musicians are big-time environmentalists. Some of these eco-friendly celebrities work to protect the oceans, while others want to reduce climate change. A few celebrity environmentalists even started their own foundations. (Source: Ranker)
So this page goes to each one I've met or wish to meet! Some I have met and the articles linked will show you the connection.  If it's just a post with no connection, I never met em!
image for Green Lighting Campaign owned by ETS Energy Store, LLC Courtesy of Courtney Dailey Photography
May Lindstrom has been a green celebrity since the first day I met her.  Has modeled and even movies. Now with her own skin care line.
Adrian Grenier is saving plastic straws from Starbucks to start! However, he did it to protect the Oceans.  He added in another quote the following statement.
"The ocean must never taken for granted. It has to be nurtured. It gives us so many things, like food, jobs, relaxation, inspiration. But it gives us one thing that we can't see, but is perhaps the most important of them all – oxygen. 50% of our oxygen comes from the ocean."
Bali Rodriguez was also recently awarded the Green Living Guy Breakthrough Model of the Year for 2018.
Boaz Frankel – The Un Road Trip
Charlotte Ross is a passionate recognized animal rights activist (widely known for PETA "I'd rather go naked…") campaign. In addition, Charlotte is a funny person who I enjoyed interviewing at a prior EMA event in Los Angeles.
Christian Serratos is another PETA supporter that I interviewed as well on Blog Talk Radio. As PETA mentioned. Almost everyone calls himself or herself an "environmentalist." Maybe you recycle, pick up litter, or conserve energy in your home. But did you know that if you want to help the Earth, the best thing you can do is to stop eating meat? Here's why:
Pollution: Firstly, can you imagine a city without a sewer system? That's what factory farms are like. Thousands of animals producing thousands of pounds of, well, poop. The poop goes into "lagoons," which often spill over into lakes and streams.
Land: As well, on 1 acre of land, you can grow 20,000 pounds of potatoes, or you can grow 165 pounds of beef in the same space. Also, about 87 percent of the farmland in the U.S. is used to raise animals for food.
Water: More noteworthy, More than half of all water used in the U.S. goes to raising animals for food!
Deforestation: Most importantly, everybody's heard about rain forests and how they're disappearing. Where are they going? They're being chopped down to make way for grazing land for cows who will be killed for food.
Energy: Producing one fast-food hamburger uses enough fuel to drive a small car 20 miles and enough energy for 17 showers. If you eat hamburgers, you may as well let your faucets.
Donna DiStefano is a green celebrity but also a LEADING and great Fair Trade and Conflict Free Jeweler.
Environmental Media Association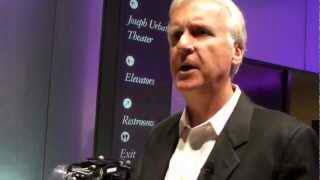 James Cameron
Lester Brown
Ted Danson being interviewed by Seth Leitman, The Green Living Guy.
Let's not forget Ted's Cause Oceana
Ed Begley Jr did an interview with Jenny Nigrosh from the Green Garmento on BiteSizeTV.com
Stefanie Moram
Good Girl Gone Green
Suzie Essman with Seth Leitman, The Green Living Guy for Catskill Mountainkeeper
Tara Mackey
Tanna Fredrick and her cause Project Save Our Surf
Taryn LaRock
Tiffany Paige – Green With Tiffany
FYI MY COMPANY
Green businesses aka companies that the Green Living Guy says Thumbs Up!! So if you think some green businesses are missing please let me know.
However, what is a green business? An green business is an environmentally friendly/compatible business. Specifically, a green business is one that produces value. However value in the same manner which an ecosystem does. Thereby neither producing waste nor consuming unsustainable resources. Wikipedia
Nectar Sunglasses are awesome for they've always been interested in finding ways to give back to the planet they call home. That's why they partnered with The Bee Cause to help repopulate endangered honey bees in the United States. So therefore and for every purchase, they donate a portion of our profits to this important program. The goal of The Bee Cause is to repopulate hives and educate children on the need for honeybees, which pollinate many of the foods we eat, in addition to the vital crops used to feed livestock.

Organic Mattress Store is not a large green business. However they are just two people who saw the need for a different kind of mattress store in the Boston / New England area. You know, one that offers bedding that truly is good for people and the planet. Their philosophy is simple. It's not to carry everything out there, only the best natural and organic bedding available.

Proterra as they write: Transitioning your fleet to battery-electric technology introduces a new set of challenges that go well beyond the vehicles. Proterra Energy in your bus!
32.ReserveAge Organics is Home of Organic Reservatrol from French Red-Wine Grapes
For as they write: is on a mission to keep the world adventurous forever. We believe there is a more responsible way to explore the world. So they are determined to make the transition to sustainable transportation an exciting one. They designed their emissions-free Electric Adventure Vehicles to challenge what's possible. Finally and as well as hoping they inspire you to do the same.
For in 2009 after taking a class in solar photovoltaics (PV) at Bronx Community College. Because the logic of solar appealed to him. I mean, here he was realizing a relatively simple technology with tremendous potential. Solar energy represented opportunity, innovation, and a chance. More importantly a chance to make a meaningful contribution. Consequently and as a result to the well-being of the world.
In the six years that have followed, SunBlue has grown into one of the top-rated Westchester solar companies. Their team never stops learning, both through experience and formal training. That's where we pursue the highest industry certifications. All through the North American Board of Certified Energy Practitioners (NABCEP) and other leading organizations. Finally, they support one another in achieving our best work.
Sun Light & Power

 with more than four decades delivering solar on over 3,000 projects across California, customers trust Sun Light and Power to deliver industry-leading quality and an exceptional customer experience.
They design, build, operate and maintain reliable solar energy solutions. Solutions that therefore saves money with lower carbon use. Thereby providing resilience. As well as getting us closer to full electrification of our world.
Tesla Inc The Home of the Tesla Roadster and Model S as well as the Model 3, Model X and Model Y  Also now a Tesla Semi, solar and Powerwall. Because Tesla's mission is to accelerate the world's transition to sustainable energy – so that we can have a better future.
There are three key components that can help address climate change and have a positive impact on the world: sustainable energy generation, batteries and electric cars. Finally, these solutions already exist independently, but when combined, they become even more powerful.
43. Tesla Pads if you buy or own a Tesla and get a house from them.
Once you buy or sell a home with us, we'll install a home charger for free! Wall connector included!

We'll send a certified electrician to your new home to install your charger for at home charging ease. If you live in a building where we cannot install it, you'll be provided with the cash value.
Green Faahion
Organic clothing or green fashion is a farm to fashion and home movement; come hear from the innovators behind it.  Some people call Eco-fashion Green fashion. Regardless, it is designed to be environment friendly. Green fashion is part of the larger trend of sustainable design where a product is created and produced with consideration to the environment.
New ANNOUNCEMENTS soon!!
Handmade slow fashion. https://www.itsalifestylewithshauna.com/
Mother Nature is our muse. Building on her handiwork, we're finding new uses for materials that exist right in front of us. Like wool from merino sheep, who have the best hair in nature.
But even great locks need a trim from time to time. With fibers that are 20% the diameter of human hair, our superfine merino wool is breathable, temperature-regulating, and moisture-wicking, all without that irritating scratchiness
Here, each brand The Green Living Guy will highlight about Green Fashion explains how it's made and the lack of an environmental impact. Want to know why you should get Green Fashion? This is where you'll get the answers.
Also my friend Gabriela Volquartz handles the other reporting on cosmetics that are green. Lipstick and Wellness.
EWG Cosmetics Landing Page: https://www.ewg.org/key-issues/consumer-products/cosmetics
Healthy Living App: For iOS and Android https://www.ewg.org
Adalinda Fashion
Beyond the Label 
Green Living Guy Awarded Taryn Hipwell with Best Green Thought Leader for 2016 and frankly beyond. Her ideas make the products move to pop ups!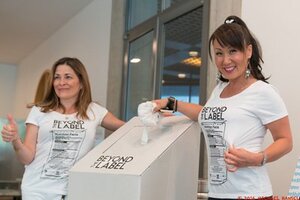 Celebrities, models, and designers such as Deborah Lindquist, Edun, Marci Zaroff, Taryn Hipwell, prAna, Stewart+Brown, Shalom Harlow, Laura Zabo and others have recently drawn attention to socially conscious and environmentally friendly fashion.
Portland Fashion Week, which has featured sustainable designers and apparel since 2005, has also attracted international press for its efforts to sustainably produce a fashion week that showcases 100% eco-friendly designs.
Eco-couture designer Deborah Lindquist is a bespoke collection of unique eco conscious women's clothing, accessories, home decorative accessories, wedding gowns and headpieces created from a blend of sustainable, organic, and recycled materials.
Other sustainable clothing and footwear labels include Elena Garcia, Nancy Dee, By Stamo, Outsider Fashion, Beyond Skin, Oliberté, Hetty Rose, DaRousso and Eva Cassis.
The sustainable fashion movement has begun to make significant in-roads in the bedding segment of the home fashion category. Brands such as Boll & Branch make all of their products from organic cotton and have been certified by Fair Trade USA.
The Hemp Trading Company is an ethically driven underground clothing label, specialising in environmentally friendly, politically conscious street wear made of hemp, bamboo, organic cotton and other sustainable fabrics.
As reported in the Associated Press:
Styles in fashion are ephemeral and fickle. Those acid-wash jeans, M.C. Hammer pants, and DayGlo T-shirts you loved in middle school have long since reached "out" status (though the harem pants we saw on the Spring 2007 runways look a bit Hammer Time to us). The skinny jeans you love right now will one day follow their fate.
Though trends come and go, the clothes themselves stick around. To make room for new fashions, the average American throws away about 68 pounds of clothing and textiles per year. Mother Earth isn't that fond of polyester, and is quite warm enough already, thank you very much.
On top of that, producing new clothes out of traditionally grown cotton taxes the environment with chemical fertilizers and pesticides; energy and chemicals are required to manufacture synthetic materials. The all-American combo of a cotton T-shirt and a pair of denim jeans, for instance, requires 1 pound of fertilizers and pesticides.
But the fashion industry is beginning to recognize its impact, as well as consumers' desire for more eco-friendly fashion. An increasing number of independent designers and boutiques specialize in eco-conscious fashion that is more hip than hippy.

Even big companies like H&M, Urban Outfitters, and Uniqlo, which sell really cheap, trendy, and easily disposable clothing (a.k.a. "fast clothes") are taking steps to be more eco-friendly. One way is by using alternative materials that reduce post-consumer waste and pollution.
Nothing New Sneakers: Made from 100% post-consumer recycled plastic and other sustainable materials.
Veja sneakers used recycled fabric and amazon rubber for soles.
Also VivoBearfoot is an amazing sneaker line.
LESS SHOE, LESS WEIGHT – MORE FREEDOM TO MOVE
1.,Less shoe and less weight mean more freedom to move! Primus Lite II R is our vision of the most lightweight shoe possible.
2.,Following the shape of the foot, and with the least possible interference to natural movement, this barefoot shoe puts your feet in control of every road run, walk and workout.
3. This leather-free shoe is made using the durable yarn of recycled PET, breathable mesh, our signature super-thin outsole, and a bio-based Bloom EVA performance insole.
4. The ideal shoe for you to train hard, while treading lightly on the environment.
As Taryn Hipwell talks about Beyond the Label:
WHAT'S IN YOUR T-SHIRT?
CONSUMERS
HAVE YOU EVER THOUGHT ABOUT: 
1. Who makes your clothes?
2. What are they made of?
3. Where are they made?
4. Why are they so cheap?
5. How are they disposed?
Laura Zabo, Queen of Recycled Tire Apparel
As her website says:
Scrap tyres are becoming a huge problem to our planet – they take generations to break down and often end up clogging up landfills. My solution is to repurpose them into high-quality fashion accessories such as beautiful belts, jewellery, dog leads, guitar straps and flip flops. Tyre is a fantastic substitute for leather and with a little creativity and imagination there is no limit to what we can make out of scrap tyres. I would love to inspire others to join me in upcycling as much as possible and together we can help make a real difference to the planet, tyre by tyre! All ZABO products are 100% sustainable, vegan and eco-friendly, handmade in London.
Reformation

Reformation's green fashion design mission was to make effortless silhouettes that celebrate the feminine figure. The design process starts with us thinking about what we really want to wear right now. We source the most beautiful and sustainable fabrics possible to bring those designs to life quickly.
Reformation's design mission is to make effortless silhouettes that celebrate the feminine figure. The design process starts with us thinking about what they really want to wear. Most fashion is designed 12-18 months before it's released, but at Ref a sketch becomes a dress in about a month.
 We're designing and making what you want to wear right now.
Green fashion, they believe Is the perfect fit is the most important part of our clothes. Reformation spends hours fitting on different bodies and have a meticulous approach to our fits. Our main range is fit on multiple women that are between 5′6 and 5′10. They also launched a petites collection designed for ladies 5′4 and under, as well as a collection specially designed to fit women with a full C-DD cup. These capsules based on body types are just the first steps in our quest to make sure women of many shapes and sizes can wear Ref (and look damn good doing it).
Created in 2009 by Yael Aflalo, they design and manufacture the majority of their limited-edition collections locally in a factory headquarters in downtown Los Angeles. All other garments are produced by responsible manufacturing partners here in the U.S. or abroad using sustainable methods and materials. They source sustainable fabrics and vintage garments while incorporating better practices throughout our supply chain to make beautiful styles at a fraction of the environmental impact of conventional fashion. It is their mission to lead and inspire a sustainable way to be fashionable.
Prana at Prana.com
Sage LaRock
For example, Sage LaRock is all about "Let the beauty of what you love be what you do." -Rumi
SAGE LAROCK offers a modern image of luxury – clothing that is naturally beautiful both inside and out. We create our clothing entirely from sustainable, recycled or organic materials and produce ethically and locally, using non-toxic and plant based dyes. We create beautiful, limited edition pieces that transition with ease from day to night and can be worn season after season.
Green Fashion LABEL To SAGE LAROCK is committed to environmental and social excellence throughout every stage of production, utilizing only the highest quality materials and local garment manufacturing. They use only sustainable fabrics such as organic OEKO-TEX® certified cotton, Italian recycled poly fabric, which is made of recycled fishing nets and plastic debris recovered from the ocean, and extra soft hemp jersey, which is grown and produced without any chemicals. Also, we never use fabrics such as rayon or viscose that are sourced from controversial forest areas, or the world's ancient and endangered forests.
They have partnered with NGO HealthySeas.org to give back a percentage of our swimwear sales to help our oceans, and also NGO Canopy to ensure endangered forests are not logged to make clothing, and to advance visionary creative solutions for the fashion industry that protect key global conservation areas, which millions of indigenous people and many endangered animals call home. Here is a link to our commitment with Canopy.
So by producing all their green fashion garments locally at their headquarters in Los Angeles it's greener than green. For Sage's adherence to fair labor practice is assured and their commitment to the environment is upheld.  Finally that no water ways are poisoned with toxic chemicals or dyes, no animals are harmed and no child or slave labor is ever used. SAGE LAROCK creates beautiful and glamorous clothing that you can be proud.
Green no. Profits
American Lung Association

 

State of the Air
University

 

of South Florida

 

Sustainability

 

Program (USFSP) is a participant in the

 

STARS program.
National policies to improve energy efficiency can reduce oil imports, improve the reliability of the U.S.
Local policies related to energy efficiency — implemented at the scale of a municipality, county or metropolitan region — can improve community self-reliance, save consumers and citizen
Accounting for about one-third of all end-use energy in the United States, the industrial sector consumes more energy than any other sector.
LeviCar

 

with IEEE.org
Pacific Northwest Regional Laboratory. Part of the US Department of Energy
RUPCO is a NYSERDA Contractor and Partner on Solarize Hudson Valley
Union of Concerned Scientists
U.S. Department of Energy's Guidelines for Home Energy Professionals:

 

http://www1.eere.energy.gov/wip/retrofit_guidelines.html
The

 

United Nations World Travel Organization (UNWTO) affiliate directory
The Rainforest Alliance – Green Travel information
The

 

EU EcoLabel

 

– Green Travel
UK Green Tourism
For Australia (by state)

 

– Green Tourism
Kenya Green Travel
Rock for Renewables

 

https://rockforrenewables.org/
PingMyLinks.com – FREE Website Submission