Welcome to the Green Living Guy website! My name is Seth Leitman.  I am an electric car expert and also known as a green living guru! In addition, I am the President of the Greater Hudson Valley Electric Vehicle Association.
STORE
Click here to go to The Green Living Guy Amazon Store for amazing green living products.  From eco friendly soap to accessories for your Tesla electric car.
The video above is my announcing the Panasonic USA / Tesla collaboration on electric car batteries, solar shingles and power walls. This was filmed in 2018 at the Consumer Electronics Show in Las Vegas.
Television
I also I have a TV show with the The Y Networks which currently has three seasons for Television. Watch the Green Living Guy Show on your Smart TV by downloading the The Y Networks app or watch on YouTube. In addition, NYCMedia, the City of NY hosted four episodes with me.  The show was called Urban Green with The Green Living Guy.
Podcast
I also have a PODCAST with Crossover Media Group.
The podcast can be listened to on Spotify, iHeart, iTunes, Stitcher, Amazon Radio and Art19.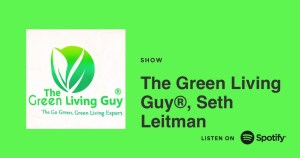 Author / Editor
I am the author or editor of 9 books with TAB McGraw-Hill called the Green Guru Guides. Everything from Build Your Own Electric Vehicle to Solar Power for Your Home.
Sponsors
Thank you to my sponsors over the years: