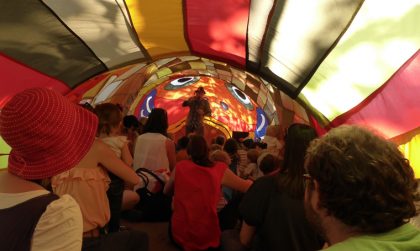 For the past 25 years Roth has been making her Festival Arts inflatable 'Nylon Zoo' animals from the dinner table of her Maslin's Beach home in South Australia.
With many of the creations reaching 50 feet in height they are being used in countries including Germany, the United States, Brazil, China and Canada to educate people on environmental issues, endangered species, public health and ecology.

The enormous animals create a mobile schoolroom and can fit up to 50 people inside at a time where a trained storyteller imparts the socially responsible message.
The meticulously crafted animals are hand sewn with stunning colours made from nylon material to create a cathedral like ambience inside.
"The different coloured pieces of material capture and blend light to provide an effect similar to stained glass windows you would find in a church,'' Roth said.

"The designs interact with the people inside to make a fascinating, enjoyable and engaging intimate atmosphere where people are inspired to listen and learn and are subconsciously imprinted with the stories.''

Roth returned from Hawaii this week after being commissioned to create a Southern Right Whale and two Monk Seals to highlight the plight of these endangered animals to the local community…
To read this royalty-free story in your publication, simply click the link: http://bit.ly/1S67FdM